My first month blogging, October 2017…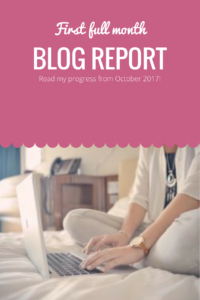 It's official! I have been blogging (publicly) for one whole month! Whew! That crept up on me. My official launch date was October 4th, 2017. I am going to be posting my progress monthly so that I am able to look back and see my growth. I will also share my goals for the coming month and what I plan to focus on. This should help keep me accountable since I plan to post these numbers publicly! This might be boring to some of you…if so…bye! 🙂 Just kidding! But seriously, if I can inspire even ONE person to get out and start their own blogging journey then to me, that's pretty cool.
So here goes…
Here I will share my google analytics, social media followers, goals and income…(if any).
Google Analytics
Analytics from October 4, 2017 through November 4th, 2017:
Sessions – 321
Users – 252
Page views – 667
Bounce rate – 66.04%
Organic Search -1
Pages/session – 2.08
Time on page -1:09
Page load time -2.09
Session duration -1:15
I am pretty pleased with these numbers. I currently have 7 blog posts and only 4 that I really promoted. I know as I continue creating content, the pages/session will increase and the session duration will as  well. I plan to post more frequently over this next month to give you all more to read! My traffic really picked  up when I started posting more in Facebook blog groups. To me, this is proof that I need to be chatty on social media. That is the goal next month!
Facebook
If you haven't already, please go "like" my page…
Followers – 112
This is largely friends and family, but slowly adding more people which is super exciting! Facebook is the social platform I use most and I have heard that getting your first hundred likes is hard to do. I hope to double that number by December 4th. That will be hard, but this is my goal for the  next month.
Pinterest
Follow me at www.pinterest.com/threekidlife
Followers – 27
I have a business page on Pinterest and I literally JUST found this awesome website that helps you create pinnable images. It is called Canva.com and it is completely free! I learned this through a free blogging course that I am taking from www.itsalovelylife.com. From learning this I will be making a pinnable image for all my existing blog posts and then continue to do this for every other post. Pinterest is supposed to be a huge source of traffic so I hope to get to over 100 followers over the next month.
Twitter
Follow me at www.twitter.com/threekidlife
Followers – 6
This is kind of funny to me. I have literally NEVER used twitter before. I made a twitter for my blog because of this blog course and I will not be focusing on this account. If I get followers, awesome! if not, I'm not too worried about it at this point in time.
Email Subscribers
Subscribe! Sign up for updates from me!
Subscribers – 3 🙁
This is sad!! I need to work on this and figure this out. I need at least 100 subscribers this month. So if you can't tell…100 is the lucky number for the month!
Instagram
Follow me at www.instagram.com/karissashipp
Followers – 377
My instagram is tied to my personal account and has my blog title in the bio. I hope to reach 500 followers by the end of the month.
Income
Income – $0
I haven't made anything from my blog yet. So this is definitely just a hobby right now! LOL! I have a few affiliate links here and there but I am also trying not to bombard my readers with ads. I want to think of a product that people will use but I am still a ways away from that I think. I hope to be making some money by the beginning of the year. Hey, if I end up making one penny this month that is a 100% improvement! Nowhere to go but up here!
Blog Posts
Blog posts – 7
I started with 3 posts and ended with 7. So that is one a week, basically. I am going to try to post twice a week this month and increase my posts from 7 to 15. I will be including a few recipes this month and will talk about budgeting during the holidays. I also plan to post a couple travel ideas and possibly a few reviews. Whew!
So there you have it! My progress from my first full month of blogging!