Hiking Sedona Arizona
West Fork of Oak Creek Trail
Last week my husband and I decided to take the kids to Sedona, Arizona for some hiking. I hike pretty frequently, my oldest has gone on tons of hikes with me and his aunt, my daughter has been on a handful and my youngest has never been. We had seen some friends go on this hiking trail and the weather in Arizona in October is beautiful! We called the kids out "sick" from school and headed out for the day. We are about a 2 and a half hour drive from Sedona…lucky us!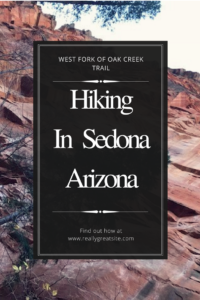 Myself being a frequent hiker, I knew to bring plenty of water, bug spray, sunscreen, plenty of snacks, and backpacks to carry everything. This trail said it was 6.6 miles, 3.3 one way and then back. This trail was perfect with kids. Sandy terrain and not any steep hills. Tons of little caves and things to look at, and explore, which helps to keep the kids curious and moving. Going in October when all the leaves change color is amazing and something we aren't able to see very often in Phoenix. If you didn't know, we don't have weather in Phoenix! LOL! As I write this it is 85 degrees in November!…I'm not complaining!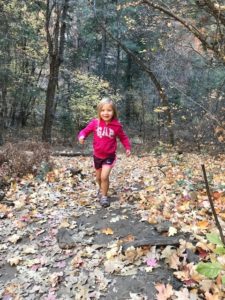 Parking is easy, but get there early because the parking lot fills up fast.The trail started off pretty easy, with a few ruins of an old hotel that used to be standing. The kids loved this and made them excited to continue exploring. As you get going there is a bridge and then the sandy terrain starts. Then you come to a canyon that you can yell and hear the echo of your voice. The kids could have stayed there all day! 🙂 As you continue, you come to your first creek. My little ones were scared to get wet at first and the two youngest had me and my husband carry them across the water the first three times!

As the little ones get tired there are plenty of spots to stop, rest and have a snack break. For me this was time for photo ops! The scenery is beautiful so make sure to take your time. The smell was amazing too. Breathing in such fresh air and taking time away from all the screens we are glued to all the time is a beautiful experience.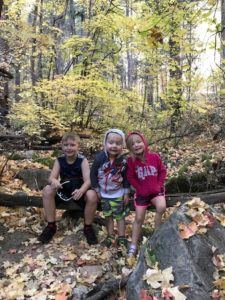 I can't tell you how many people commented while we were hiking, on the fact that the kids were out in nature, away from tablets, "unplugged" etc. We got called "parents of the year" by another couple walking past us who said they had three kids as well, and their kids would never make it through the hike! They told us they had kids who were all the same age as ours!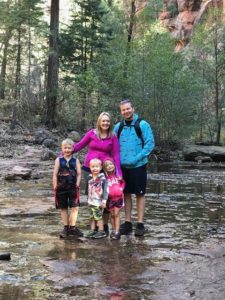 As the day went on, the kids got braver, which is a good reminder that even if your little ones seem a little nervous at first, just keep going and after they see that they won't be harmed by simply walking through water they will feel so strong, brave, and adventurous.
Our kids were super tired by the time we decided to turn around, but after a quick break and a snack and water they were ready to keep trekking. This was an adventure to them. They were covered in mud by the end of the trail. After carrying the kids over the creeks the first couple times, we decided to have them start jumping on rocks and wading through the creeks to get across. Way more fun right?! By the end of the hike we had gone 9.5 miles! Our youngest, who, again, had never hiked before, was a trooper and kept saying his feet were burning, but after a few piggy back rides, and the promise of a rest as soon as we got to the car, our youngest made it back with plenty of energy. 🙂
If you have never hiked before, I will tell you now, the community of hikers is AMAZING. So welcoming, happy, and easy going. The parents of three kids gave us an extra power bar when we ran out of snacks. Plenty of people offered to take our pictures. People were literally cheering the kids on as they waded through the creeks and jumped from rock to rock. It's an amazing thing what can happen when you put the technology down and actually experience life, nature and what is around you. What happens when you actually experience the moments with your loved ones. The feeling you get after hiking and exploring a new terrain is unexplained. You feel so small. You are a part of something so much larger than yourself. So if you take anything from this, I encourage you to get out, explore and GO! Wherever you can and whenever you can!