How to start a blog: 5 simple steps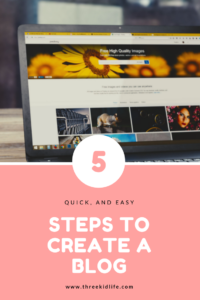 *This post contains affiliate links. This means that I make a commission when you click on one and purchase through my link*
Do you follow other mom blogs? Did you know those mom blogs are making awesome passive income?
What is passive income? Well, passive income is income that is being made while you sleep! I have been pinning and reading about a ton of kick ass moms who were able to quit their jobs and earn a passive income all by blogging. This intrigued me. Don't get me wrong, I love my job! I get to meet awesome people every day and help them make vacations a reality. But I did also learn from my job that I really enjoy actually going on vacation, and spending time with my family! So, cue the pinning and researching blogging.
If you are like me, then you have read a hundred article (is there such thing as an under exaggeration? ;)) and have decided, ok! I can do this! So where do I start?
Decide on a topic or niche!

 
There are so many blogs out there, figure out how to make yours stand out. Pick a topic you love and a topic you can write about non stop. If you are a fashionista, do a fashion blog! If you travel all the time, create a travel blog and share your favorite things to do when you go somewhere new! If you are a super mom, share! The world wants to know what you have to say!  
2. Pick a domain name and get hosting.
You can search on bluehost.com for the perfect domain name. Make it catchy and easy to remember. Short domains are better. Also, make sure it actually pertains to what you plan on writing about. You can get hosting on bluehost.com  as well for as little as $3.95 per month and a free domain name! Think of hosting as your "spot" on the web. Bluehost also hosts WordPress managed sites and you can access the full word press admin through your log in.
3. Choose a theme and customize it
This is the fun part! Choose a theme that is simple and easy to navigate. Customize the colors, the pictures, etc. you can start with free themes then easily change it up afterwards. Make sure to install some social widget icons so people can easily find you through social media like Facebook or Pinterest.
4. Get writing!
Create content for your blog! If you have no content, then why are people coming to your blog? How are they getting there? What is going to make them want more and to keep reading? Constantly be thinking while you are writing, how is this going to help my readers? If it wouldn't help you or benefit you, why would you want to read it? These are the questions that need to go through your head as you are writing. Yes, not every post needs to be informational, or informative, but it should be geared towards your audience. We aren't writing in our diaries after all. This is for the world to see! Make them want to read it!
5. Share!
Share, share, share and share some more! Tell your friends and family! Create a Pinterest for your blog to be able to share your content instantly! Create a Facebook page. Make sure when making your blog that there are easy ways to subscribe to your blog. Use whatever social media platform you are most comfortable with and master that platform. 
6. Repeat steps 3-5! 🙂 
Once you have customized your blog for the first time, which is the most time consuming part, You can tweek things as you go, but making it presentable for the first time, is a little stressful if you are like me! I wanted everything to be perfect before I launched. I have read where some people do what I did and I have read where some people didn't and just launched without everything perfect. Both ways will work if you have the right mindset, but however you feel comfortable is what you should do! Also, make no mistake that you will need to devote time to your blog. Especially in the beginning. I am spending probably a good 10 
-15 hours a week just on this blog so far and this is before I even launch! BUT as with anything in life, your success is determined by the effort you put in. I'm giving myself a time frame of 1 year to make this blog successful enough for me to quit my job, so I want this to work quick! If you want to do this for a hobby, you would probably spend less time than I am 🙂 again, do what works for YOU!
I will say, that I was nervous to even tell my closest friends and family that I was starting a blog. But to my surprise, the overwhelming support I got from them helped to push along even harder. It's weird what putting yourself out there does for someone. I am even more determined to make this work for me then ever before! I don't want to let them down or myself. This is one of my first blog posts and I wanted it to be helpful and informative! I hope you are energized and inspired to start your blog just as I am! Let me know if you start your journey after reading this so I can offer my support when you need it! 
Good luck! Happy blogging! Let's do this!